Four Colour Printing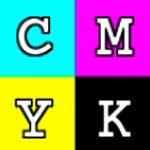 Four colour printing is referred to as process colour, 4 colour process or CMYK (which is short for Cyan, Magenta, Yellow and Black). These terms all mean the same thing.

Four colour printing uses these four ink colours, in one or more pass on the printing press, to reproduce literally millions of different colours and shades.

Cyan, magenta and yellow are the three main pigments used for colour reproduction. When these three colours are combined in printing, the result should be a reasonable reproduction of the original, but it is not. Due to limitations in the ink pigments, the darker colours are dirty and muddied. To resolve this, a black separation is also created, which improves the shadow and contrast of the image and also for any black text.