Customer Care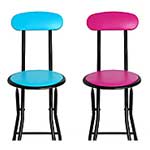 The Philosophy of our company is on providing high quality products & services that meet and exceed the customer's expectations now and long into the future. SAHIL offset printing machine soon became the most popular machine in India. This was possible due to dedicated after sales service rendered by SAHIL and all round good quality produced by the machines. It is point of satisfaction that, aforesaid situation prevails till today.
Planning, designing and construction of SAHIL machines are the result of creative cooperation among many specialists including you-our clients. We want to express our appreciation to those who have supported our efforts so far and welcome others interested in having us to meet their production needs today and in the years to come.

Our experts are always close at hand - and spare parts are delivered promptly. Freelance service engineers are also located at different places for providing prompt service. Quality and service have always been Sahil's hallmarks in the competition for business. Once the press is installed, our well-known operators manuals, spare parts catalogues and reliable after-sales service ensure that your Sahil choice provides profitability and print quality far into the future, because we believe in making friends , not just customers.

Your suggestions are also invited, so as we may improve the Service levels and would enable us in serving you better in future. We will be honored to earn the opportunity to help you build a more stable, profitable printing business.

After Sales Service & Training
Sahil Graphics believes and assures you in terms of quality and technology to provide excellent quality mini offset printing machines, Poly offset printing machines, Polythene bags printing machines, polybag offset machine, carry bag printing offset machine, sheet fed offset printing machines & Web offset presses in single & multicolor.

Our client's response and fondness makes us proud of our mini offset & sheet fed offset machine taking into consideration the service aspect because the designing of our offset printing machine is visualized and conceptualized to perform operation easily with zero error by using the best available raw material and spare parts. Our mechanism of mini offset printing machine can be effortlessly understood and use of electronic controls are simple to operate, easy the OFFSET MACHINE DESIGN - less requires the OFFSET MACHINE MAINTENANCE.

The reason behind this conveys that SAHIL requires less efforts to install due to its easy to understand mechanism and the mini offset printer/polythene printing offset operator can overcome the problem himself without implying more burden to his mind. SAHIL provides you the best technology wonder in mini offset printing machine or poly bag printing offset machine. Overall we provide service from our various dealers and with our technical offset print mechanics, which are well qualified from building the whole offset printing machines to printing various samples on the mini offset printing machine or polythene printing offset machine. This is a printed proof of our confidence in our services after-sale of the mini offset printing machine or medium format offset printing machine.

SAHIL gives training on the various aspects of mini offset printing and machine control. SAHIL teaches the basics of offset machinery technology and troubleshooting for various offset printing jobs from single color to four colors, from duo tone to special color. We believe in educating offset printers in terms of technology and building self-confidence in printer for printing the finest jobs from our offset printing machines. SAHIL provides you training from skilled mini offset printers to printing technologists. SAHIL has trained all its customers and various offset printers in Faridabad, it is their feedback and feelings, which speaks about our technology and volume production. Today, all the customers who have bought our mini offset printing machine, polythene printing machine & sheet fed offset printing machine are doing great business and have established their name in terms of high quality and high speed offset printing industry in India. Our customers have experimented various jobs on our SAHIL Mini Offset, Plastic bag printing offset machine & Sheet fed offset Printing machines and are producing excellent results. Whenever our marketing executives pay a visit to them the smile on their face says that they are satisfied with SAHIL Mini Offset & Sheet fed offset printing machines. The overwhelming response and ever growing market demands of SAHIL mini offset, Poly offset & sheet fed offset printing machines compelled them to expand their production capacity drastically. Most of the customers have so far placed repeat orders for Sahil mini offset machines and medium format sheet fed offset printing machines to cater their typical need for mini offset printing & big format sheet fed offset printing machine wide range of stocks.

When our customers come for the trial purpose in our Faridabad premises , they bring their offset printing jobs along with them and print their jobs on their ordered mini offset printing machine, Polythene printing offset machine or sheet fed offset printing machine so the during the trial period our offset mechanic teach them how to operate the particular offset job and how to print the job on the offset machine. So at a time the customers get training on their jobs itself and also print their jobs on the mini offset printing machine or poly offset printing machine.